The FIDE World Championship match in Astana has turned out to be a most pleasant surprise. While expectations were generally modest and many pundits had expressed or feigned indifference before the match, interest in the battle between Ian Nepomniachtchi and Ding Liren seems to be growing by the day. The players lay into each other with abandon and so far draws have been a rarity. Four out of the first six games have ended in a decision, we have seen brilliant attacks and it's anyone's guess who has the best chances.

We don't know who will win the match and we don't know either what the position of the winner, the new World Champion, will be in the chess community. There is good reason to think that his status will be less glamorous than it should be. As Magnus Carlsen, the number one in the world rankings, has decided not to defend his title, we will have a world champion who many will not see as such. That is far from ideal and it remains regrettable that Carlsen has undermined a great tradition.

The past months I've often been thinking about the consequences of Carlsen's decision and more than once I thought back to an interview I had in 2004 with Rustam Kasimdzhanov after he had won the FIDE World Championship in Tripoli. The situation was quite different from the situation now – and considerably more complicated – but there were similarities too.
The main similarity that came to mind was the fact that Kasimdzhanov's world title was not generally recognized. At the time there was a split in the chess world and everyone believed (rightly) that Garry Kasparov, the number one in the world rankings, was the better player.

I interviewed Kasimdzhanov in Vlissingen, in the Netherlands, where he was playing in an open tournament. His first tournament as world champion. There were various reasons why I was impressed that afternoon. To begin with I found it admirable that Kasimdzhanov had not cancelled his participation in this relatively minor Dutch event. Instead, he had chosen to honour a contract he had signed before he achieved the best result in his career. For him playing anyway had been an easy decision, he said. That's what he had committed himself to and the organizers were friends.
Furthermore, I was impressed by the sober way he analysed what had happened and what he expected that would happen. As for the latter, what he essentially expected to happen was: nothing. To prove his point he told me that in the thirty days that had passed since he won the world championship he had not received a single invitation.

We know that Nepomniachtchi and Ding Liren have already been invited to tournaments after the match, but we don't know how they will be looked at. Still, it seems fairly safe to say that neither will be seen as world champion. That's a shame, and there's nothing they can do about it.

You may find it interesting to read (or reread) the interview with Rustam Kasimdzhanov that appeared in New In Chess Magazine 2004/6. As said, there are clear differences with the situation now, but it makes you think about the awkwardness of celebrating a big success while you know that you cannot count on general recognition.
At the same time you will be impressed (perhaps once again) by Rustam Kasimdzhanov's sober analysis and his foresight. The match against Kasparov he never got, but he did become one of the most respected coaches in the world. Kasparov did not get a match against another opponent either, which was the main reason for him to quit competitive chess in 2005.
Interview Rustam Kasimdzhanov (New In Chess Magazine 2004/6)
'You are at the highest point for only a moment'
By Dirk Jan ten Geuzendam
It would have been nice to survive a couple of rounds in Tripoli and make some money, but instead Rustam Kasimdzhanov went the full stretch to become the new FIDE World Champion. Still, the soft-spoken Uzbek does not expect his life to change drastically. Except for a warm reception in his native country, reactions to the greatest success in his career have been mainly lukewarm. In a candid interview the new champion gives his views on his confirmed expectations, his complex position in the chess world and the things that really matter in life. 'Reading a good book for me has inner value and public relations on the other hand not always. That's why I have been rather ignoring the second and preferring the first.'
The spacious apartment overlooking the beach and the boulevard six stories below has every appearance of a fitting abode for Rustam Kasimdzhanov during his first tournament after Tripoli. The new FIDE World Champion, his wife and their two-year-old son are delighted by the luxurious lodgings the Vlissingen organisers have provided. They feel at home, as can be seen from the toys spread all over the floor and the wide choice of fruits and sweets on the dinner table. Kasimdzhanov acts relaxed, but he claims to be exhausted: 'People told me that it would take me at least half a year to recover and I didn't believe them. I'm young and healthy, why should that be? But now I'm beginning to understand.' The place where he is staying may be befitting for a world champion, but what about the tournament he is playing in? The Hogeschool Zeeland tournament in the South-West of Holland is a fairly inconspicuous Open with nine grandmasters, a similar number of IM's and many more amateur players. Kasimdzhanov played his first game as FIDE champ against Hotze Hofstra with a rating of 1913. His first loss, which he is still unaware of when we meet, he will suffer in Round 7 against Dutch IM Jan Werle. Any manager would have strongly advised him to cancel his participation in an event where he has nothing to win, but Kasim­dzhanov did not think for even a second about withdrawing: 'I can give you many reasons why I think I should play in Vlissingen, whereas I do not think so many reasons can be given for not playing. First of all, it was a commitment I took a long time ago. Also these are very good friends of mine, they did a lot for me in the past. Thirdly I like to play chess and as for the level of the tournament, I built up my chess strength playing in such tournaments mainly. Choosing my tournaments more carefully now would be more of an issue if after the world championship I received lots of invitations. But as I didn't receive a single invitation anywhere I assumed it would be much wiser to continue as before. I do not think that the situation for me personally will change greatly.'
You didn't get any invitations? That must have been a great disappointment.
'I have expected this. Nowadays the situation in the chess world is the same as in all other spheres of modern life. It's not about your strength or your success anymore, it's all about your PR. And this I never cared for. That's why they somehow don't want to see me. When I had a high rating they were saying he is not having major successes and when I have major successes they will say I do not have a high rating. And when I will have both, they will say that the quality of my games is bad. They do not know me. I do not play on the ICC which seems to be the main platform to attract attention these days. I'm not involved in any scandals, so they just don't know me. And also my name is very long and difficult to pronounce. I can give you an example. In 2002 I played in Pamplona and I shared first place with Bologan. The organizers came to us and though it was not in the regulations they said they would really like us to play a blitz match to define the winner. We said okay, we sit down to play this blitz match and I win 2-0. So I am declared the winner of Pamplona. The next year I didn't hear from them and Bologan gets invited to the tournament. Bologan is a good friend of mine and it's fine with me that he played, but I don't see why they never contacted me and why they made me play this blitz match. Once I had won their tournament I didn't fit into their plans anymore. The same goes for Sarajevo. Last year it was a very strong tournament. I won three games, made six draws and was very close to winning the tournament. But they did not say anything and didn't invite me back. I have very good relationships with all of them, never quarrelled with them. I just do not understand how they think. When I was playing badly in Wijk aan Zee people were saying that I wouldn't be invited back because I played badly. I didn't think this was the truth. It's something completely different. I do not know what they want, but apparently this is not something I am giving them. Even Opens do not want to see me.'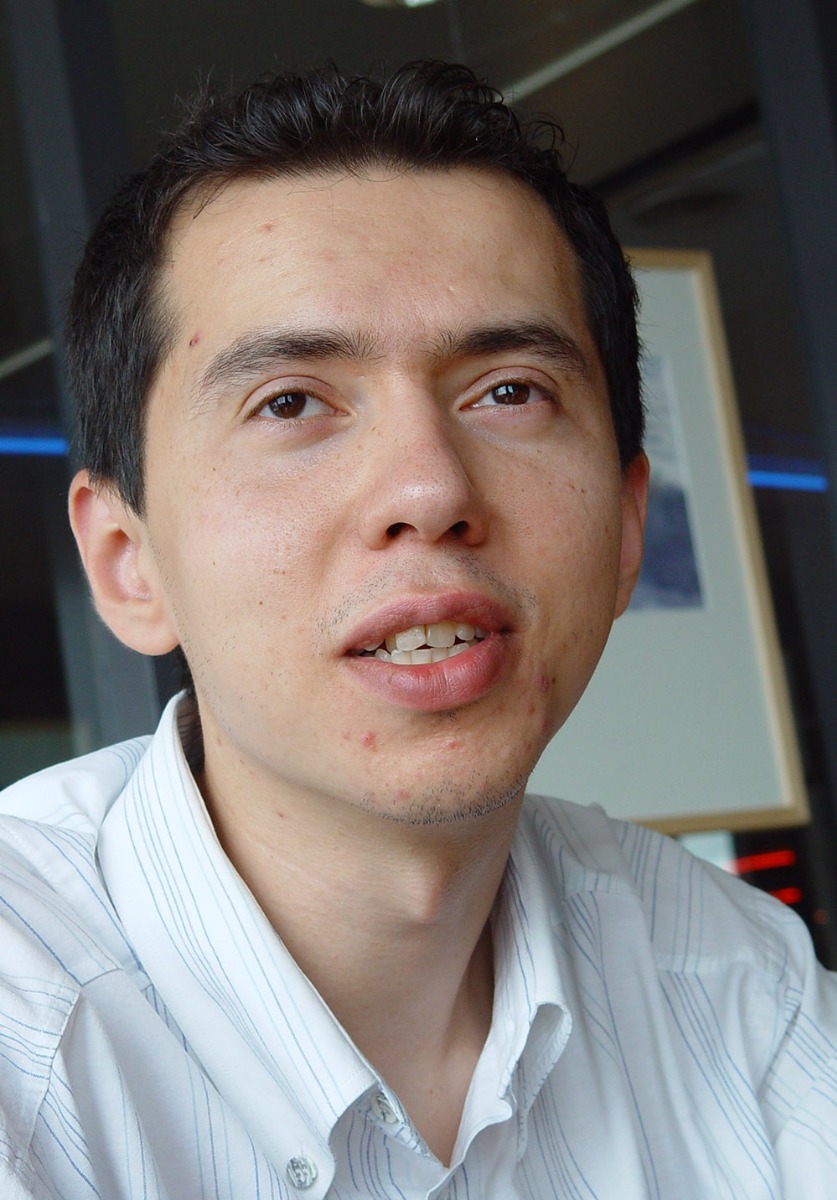 Rustam Kasimdzhanov during the interview in 2004 (photo: New In Chess).
You say you have no plans to change your way of life. Still, becoming world champion must have affected you. Do you occasionally wake up in the middle of the night and look at yourself as a different person?
'No, not really. My position as connected to Uzbekistan has changed a bit. For them it is very important and they are really trying to help me as much as they can. For chess and sport in Uzbekistan this is really a great catalyst. As for me personally, I do not think that this result or any other result, should make me change my ways. It has happened to so many before, they became world champion and after that basically quit chess. This is what happened to Pono­mariov. If you play once a year or play nine rated games in I don't know how many lists, this more or less means quitting chess. I don't see why this result should force me to do this.'
What kind of reactions have you had around you?
'The reception in Uzbekistan was very warm. On my return from Tripoli I received a number of phone calls in Solingen from representatives of the government of Uzbekistan saying it would be very nice if I came. Basically, the way my government see it is that I showed most decisively what Uzbekistan is. It still is a very young country and needs getting known. Just like me (starts laughing). They invited me to come. They picked me up in Solingen and paid first class tickets for the whole family to Tashkent and back. At Tashkent airport there were many members of the government and a huge crowd. After this there were celebrations to no end and I saw from the reactions of all kinds of people that they were very happy. In Germany, where I spend most of my time nowadays, the reaction was a bit different. There were good reactions and bad. Somehow a lot of filth and envy was spilled in the press. Just before the tournament I had changed my club and after I won the championship my former club, Solingen, suddenly started to value me. They started to blacken me in all possible ways. On TV, in the local press, on the Internet, that basically I was wrong to leave them. Apparently they had different ideas about my freedom. I was seriously dissatisfied with the way I was treated in my former club and I felt compelled to leave and went to Bad Godesberg (playing in the second Bundesliga – DJtG). As for the reaction of the chess world, the fact that there has not been a single invitation in 30 days in my opinion tells a lot about the chess world's reaction.'
And you just try not to care.
'It's what I expected, so in a way it even makes me proud that I anticipated this.'
Do you remember with what expectations you went to Tripoli?
'Of course I did not expect I'd be able to win this. I thought I should be mentally ready to lose and go home any given round. I think I managed this and this greatly helped. Once you are reconciled that you can lose any given round you are basically freed from the fear of losing.'
You may be too free from fear.
'To me personally fear doesn't do any good. I should be concentrated, enjoying myself, but I should not be afraid.'
When you go there, you may go for three days, but you may also go for close to a month. How do you pack?
'I assumed I was going there for one week and made my travel arrangements accordingly. If I win the first two rounds then in the third round I play Ivanchuk and it is very likely that I may lose this. So, I had a ticket to go home after Ivanchuk. This was my general assumption. And if I don't lose in the first three rounds there's nothing to complain about.'
At some point I kept seeing pictures on the official website of you wearing the same shirt for several rounds. I was thinking, either this is his lucky shirt or he has run out of clothes.
'(Laughs) I had basically no problems with clothes, but this was indeed my lucky shirt. I didn't wear it all the time, but I wore it during tie-breaks. It was my lucky tie-break shirt. Once when I wanted to wear something else, I think it was before the tie-break against Topalov, my wife called me just fifteen minutes before the game and insisted I wore this shirt. I told her that if anything goes wrong with this you will be responsible and she said, yes, I will be responsible.'
At the closing ceremony you were wearing a suit. Did you have one made in Tripoli?
'No, I had it with me all along. This is the kind of thing your wife puts into your suitcase. I would not have taken it.'
Could you say that most chess players go to the championship thinking they are going to a strong tournament with good prize money, and it's only after the last day that the winner thinks that it was a world championship?
'I doubt this. I think players are different. Some go there to earn money, some go to survive a couple of rounds, some go there to win the tournament and be world champion. I really think that Topalov was not thinking about anything else. To him this was a tournament with seven knock-out rounds and he envisaged them all. He went there to win this tournament. To him it was pretty much the same to lose in the second round or in the sixth, because he wanted to win this. Also when Anand plays such an event he doesn't think about prize-money and all this. He largely concentrates on winning the tournament. For minor players, like I am and the rest, money plays a role. Also we do not dare to envisage going to the final and all this. It would be nice to survive a couple of rounds and earn some money.'
After you won you pretty soon started speaking about your duties as a champion. What duties do you feel you have?
'I think this word had a slightly different touch to it in the context I used it. What I feel now, as there is some attention to me as a chess player, is that it is my duty as a world champion to play chess. That I should not sit at home just enjoying what I am. We have lately been forgetting about this, but it is nice when top players play chess, more than one tournament a year. They play Linares and two exhibition matches, but I think it is nice if you play as much as you can.'
Where do you see yourself? Do you see yourself in this line of the champions of the past or in this branch that started with Khalifman?
'I have not really thought about this. I do not create such pictures. I do not think that so much has changed. I only feel that for the promotion of chess it is nice if I play, but I would also have done this had I not won Tripoli.'
Would you be willing to achieve certain changes exploiting your position within FIDE? For instance I don't know many strong players who are in favour of the FIDE time-control and I remember an old interview in which you also called it totally ridiculous.
'I do not really like this time-control, but I do not think that I am in the position to change much. If I were in a position to change something I would start with suggesting another day for the tie-breaks. This would already be quite something. As for time-limits, nobody knows where they come from. I don't know for what strange reason we had to have this time-control we never had before. This one hour and thirty minutes for the game I always found very difficult. Maybe this is the idea, to make it more difficult. So that we are more prone to blunders and it will be more spectacular.'
I think this is an essential problem in the chess world, where in fact everyone would like to see FIDE as a competent governing body. In this championship there have been complaints about the time-control and you rightly pointed out that it's pretty tough to have the tie-breaks on the same day. Yet, the only sounds I heard from the FIDE camp is that they are thinking about doubling the number of participants in the championship. They always manage to create the impression that essentially they don't care about chess at all.
'I do not know. Of course, most of what you say is just, but on the other hand, who has been doing more for chess? You can say that FIDE and its world championships are wrong, that Linares for instance is better for chess. But I could give you a hundred reasons why it is not. FIDE has been subject to a lot of criticism and partly rightly so, but who has been doing more? Now you have this ACP. Their aims sounded very reasonable to me and I joined them, but what they did before the European and World Championship was of the most dubious character. They were trying to dissuade the players from taking part. You cannot do this as an organisation that offers nothing reasonable instead.'
In Tripoli you revealed that you didn't have any real opening preparation. You were preparing as the event developed and tried to surprise your opponents with openings you do not normally play. That is not the way to go about it in a match against an experienced player like Kasparov. Are you going to build a team..
'I'm not sure yet. In Tripoli I was alone and probably this will not happen, because it felt a bit lonely towards the end. I won't be alone but I have no idea whether this will be one person or more...'
Do you expect the match to take place?
'Yes. I feel this match will take place for different reasons. I need it, as far as I can see FIDE needs it, and also Kasparov needs this match to take place. If all parties involved want to play then usually it does take place, doesn't it? Especially if Kasparov participates the financial side should not be a problem.'
Sponsors may think that Kasparov is too clear a favourite.
'First of all, Kasparov is considered the big favourite in every match. I don't think he is less of a favourite to win, let's say against Adams than against me. He's still a huge favourite to win, I mean what can we do? Still, in any other sport this might be questioned. They would ask what is his recent match record. He lost this match against Kramnik and this match against Ponomariov did not happen. This match against Kramnik was already four years ago.'
In the previous issue I wrote that at the end of the match several FIDE officials were quick to mention that you are a Muslim. Maybe they will try to raise money in the Muslim world?
'I have no idea what they've been trying to do. I know that the city of Dubai was mentioned, but I have no idea whether it was mentioned for its connection to the Muslim world or anything else. In fact I tend to doubt this. Because the city of London was mentioned as well.'
How Muslim are you?
'(Without any hesitation) I would not like to touch this subject.'
Because it is a touchy subject in Uzbekistan?
'No, just because this is a personal matter. I don't like to speak about it.'
In Uzbekistan you were received by a mullah. Doesn't such a welcome have religious overtones?
'It does. Uzbekistan is largely a Muslim country. This mullah has two sides to him, a religious side and just a traditional side. Any elderly person in our tradition is to receive his blessing.'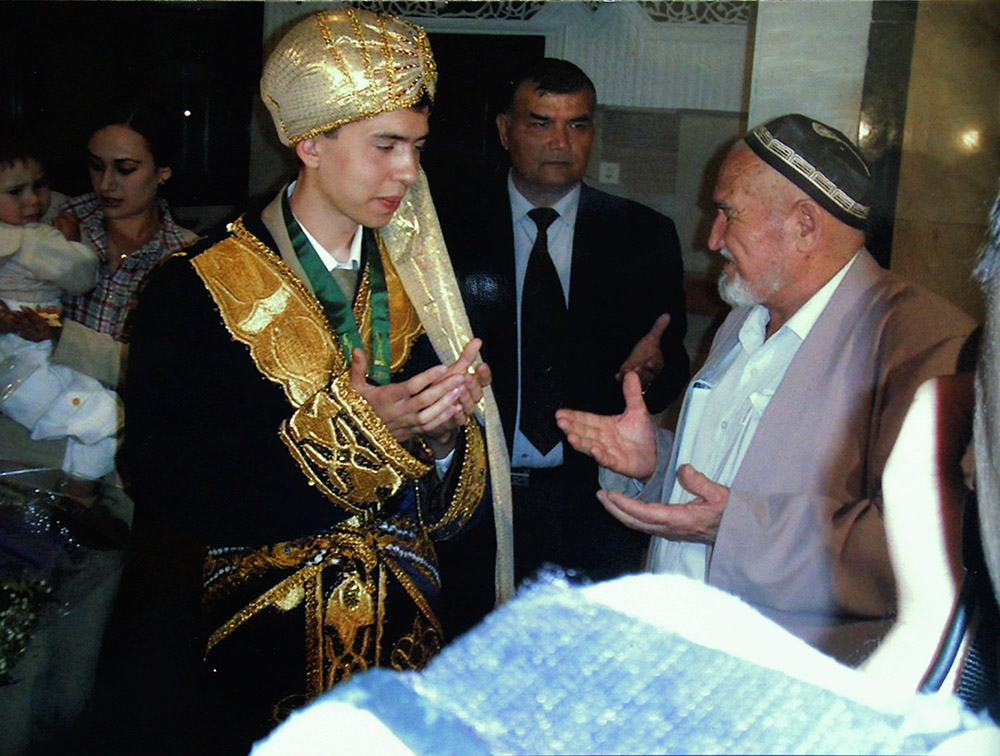 The new FIDE champion felt flattered by the warm reception in his native Uzbekistan. 'This mullah has two sides to him,a religious side and just a traditional side.' (photo: ChessBase)
You said that you were partying every night in Uzbekistan...
'Not partying in the usual sense of the word.'
Normally you don't drink.
'Normally not, no.'
It has been suggested that one of the reasons you did so well in Tripoli was that while for many players the place must have been pretty exotic, for you it felt very much like being in Tashkent.
'Yes, I felt that Tripoli in atmosphere and otherwise was very close to Tashkent. I felt quite at home. I was acquainted with the overall tradition, with the manner of driving for instance, and especially the food was very much to my liking.'
Whereas many players were stuck in the hotel, not knowing their way about, it was easy for you to find your places.
'I just felt at ease. I didn't see the point of locking myself up in the hotel. That just didn't occur to me.'
Despite the fact that you are world champion now, there are probably not many chess fans who have any idea who you are. Suppose you were to introduce yourself, what would you tell them?
'I lead a very quiet life, I respect my privacy. I read a lot, I spend a lot of time with my family. I do not like travelling. I never go to discos or bars. I try to lead a reasonable life that has some inner quality and value. Based on my feelings. I feel that for me some things have inner value and some don't. Reading a good book for me has inner value and public relations on the other hand not always. That's why I have been rather ignoring the latter and preferring the former.'
You are fond of English and German literature. Could you name some books that may shed some light on what kind of person you are?
'With German literature this is easier, because there I have clear preferences. I am very much impressed by Kafka. Almost everything he wrote, but mainly The Castle, The Trial and the short stories. I first read them in Russian and once I had a decent command of German I reread them in German, which was an entirely new experience. Also Joseph and his Brothers by Thomas Mann was an important book for me. In English literature I have read a lot more, but perhaps precisely because of that my preferences are not so clear-cut. Some years ago I was really fond of James Joyce, but this has more or less passed. Surprisingly, I am fond of Nabokov's Lolita. I think it is a really profound book and largely underestimated. And I'm fond of poetry, for instance the Irish poet Yeats. Some of his early lyrical poetry impressed me. And many others. I have been reading more or less everything that I could get hold of in 19th and 20th century English and American literature.'
What was the first piece of music you played after you became world champion?
'During the whole tournament I was listening to the Russian poet and singer Vladimir Vissotsky.'
Ah, preparing for Kasparov already...
'I have no idea about Kasparov's preferences but this was what I have been listening to during and after the tournament.'
What is your favourite Vissotsky line?
'It's difficult to translate it into English. It was what struck me during the sixth game against Adams. He has a song called The Song of the High-Jumper. He jumps and he doesn't quite manage. He wanted to make 2.12 and fails. And he says, I will let you in on a small secret: such is the life of a sportsman or woman. You are at the highest point for only a moment, and then you fall down again. When I played Kg8 and thought I was losing, this immediately rang in my ears. You are at the highest point for only a moment.'