For the new issue of New In Chess Magazine (that came out last week), I had the pleasure and privilege of interviewing Bruce Pandolfini. It was an old dream come true. Pandolfini is not only a true legend of American chess, he is also a wonderful personality with an endless supply of great stories.
Pandolfini's chess career took off in 1972, when, much to his surprise, he was invited to be an analyst on TV for the Fischer-Spassky match. Even before the match was over he had also started teaching chess and in the years that followed he became one of the most successful and popular coaches of all time. His most famous pupils were Josh Waitzkin (of Searching for Bobby Fischer fame) and Fabiano Caruana, but there were some ten more that became grandmasters. Besides these extraordinary talents there were many, many more amateur players that he taught, including celebrities from all walks of life.
Pandolfini's most recent claims to fame were his work for The Queen's Gambit (he selected most of the positions that Beth Harmon got on the board) and the Louis Vuitton advertisement with football stars Lionel Messi and Cristiano Ronaldo (yes, he carefully chose the position for the photo shoot).
Furthermore, Pandolfini is a prolific writer, who at some point was asked by Simon & Schuster to write nine(!) books in two years. The publishing house wanted to modernize their chess library and replace their old Chernev, Reinfeld and Horwitz titles. Pandolfini accepted the challenge, but in the interview he modestly stresses that he believed these legendary writers were irreplaceable as 'they brought out chess in such a lively wonderful manner'.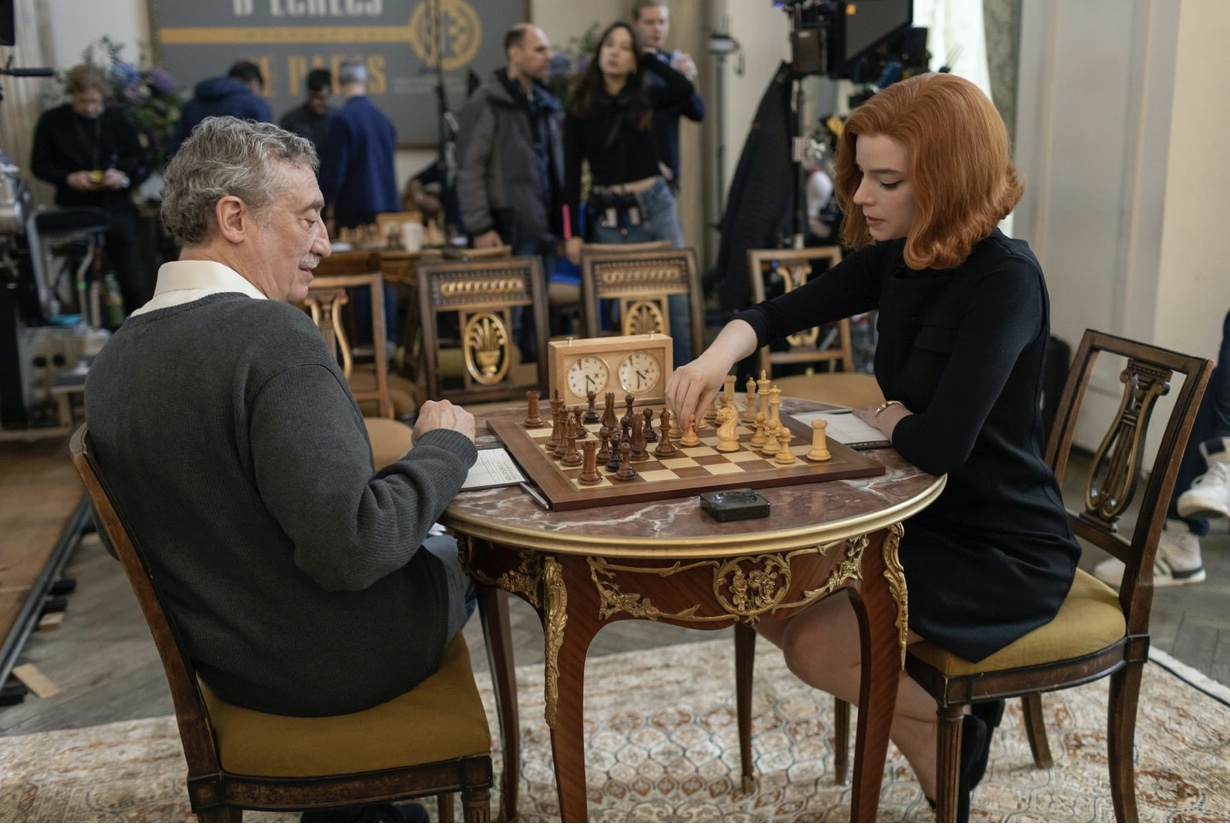 Bruce Pandolfini on the set of The Queen's Gambit with Anya Taylor-Joy, the star of the Netflix miniseries.
One might say that he could not help making this remark, as these writers had the same love for the game as Pandolfini himself has. More than anything else he always wanted, and still wants, to instill this love for chess in all his pupils. It is true that these classics by Reinfeld and others were perhaps not as accurate (historically and chess-wise) and profound as many modern books, but they were attractive for a wide audience because of the passion and romanticism they exuded.
But who still reads them? Or who, for that matter, still reads old chess books at all in this increasingly digital world? From the sales in our web shop we can see that there is still great interest in new titles, both paper and digital, and that books are still very much alive. But what about young chess fans? What about their love for books? Or even more exotic, old chess books?
From personal experience I know how fascinating and rewarding it is to delve into both new and old chess literature. As a student I would regularly visit the Royal Library in The Hague, where they had the second biggest public chess collection in the world (the biggest is the John G. White collection in Cleveland). The number of books written about chess is staggering and when I visited the 'Van der Linde-Niemeijeriana collection' in The Hague there were some 25,000 books to choose from.
Before long I became a collector myself, enthusiastically looking for books, from important biographies and tournament books to rarities written by the pioneers of our game. Collecting is adventurous and enriches your knowledge, but in my correspondence with fellow collectors I often encounter worries that they see few if any young successors.
That is, until yesterday, when a friend drew my attention to a YouTube video that had left him in an excellent mood. And he was right. It is that video that inspired this post and I can only advise you to watch and enjoy it. The video is entitled 'I Bought 54 Rare Chess Books in a Weekend (worth over $ 2,000)' and was made by The Chess Nerd, a YouTuber and streamer from Canada who is called Zachary (but prefers you to call him Zach).

Two great books that made Zach happy: The Life and Times of Mikhail Tal and Jan Timman's account of the legendary Interzonal Tournament in Curaçao in 1962.
In an hour he tells you which books he acquired that weekend and why they are so special. Zach's enthusiasm and passion is contagious and the pride he takes in some of the books he found fully justified (yes, H.J.R. Murray's A History of Chess is one of the most important chess books ever published!).
The good news for Zach is that he has only scratched the surface. Many of the books he shows are not as rare as he believes them to be and there's still a wide world to be discovered (contact me any time, Zach, happy to come up with suggestions).
But first I recommend you to enjoy Zach's account of the books he bought and share his enthusiasm.