Easily the most-heard remark in the chess world the past weeks was what a wonderful and exciting fight the World Championship match between Ding Liren and Ian Nepomniachtchi had turned out to be. There simply were no dull moments and dramatic turns and wonderful games were the order of the day.
Traditionalists might have hoped that the outcome would be decided in the classical games, but those considerations were probably quickly forgotten when the rapid tiebreak proved no less entertaining.
And what a finale it was! Ding Liren's decision to play for a win in the fourth rapid game was epic and will be remembered for a long time to come.

An account of the match in Astana and the key games with great notes by Anish Giri, Jan Timman and Jorden van Foreest you will find in the 2023/3 issue of New In Chess that will be published (the digital edition) on May 6.

Here I would like to remind you of another most remarkable tiebreak game that Ding Liren played, a brilliancy that I had the pleasure (and privilege) of watching live together with Garry Kasparov in St. Louis four years ago.

After 11 rounds the 2019 Sinquefield Cup saw a tie for first between Magnus Carlsen and Ding Liren. A tiebreak was to decide on the winner. First two rapid games were played in which the Chinese player had no real problems. Then the balance shifted in his favour in the first blitz game where Carlsen soon found himself on the defensive and escaped with a draw. The tiebreak was decided in Ding's favour in the second blitz game in a brilliant attack with the black pieces. I still see that bright smile on Garry Kasparov's face and his nod of approval.

If you have not followed Ding Liren's rise to the top closely, it may be enjoyable to relive that truly special moment and get to know more about the new World Champion.
Here's the first part of our report on the 2019 Sinquefield Cup as it appeared in New In Chess 2019/7.
Ding Liren's Finest Hour
Chinese ace overpowers World Champion in Sinquefield tiebreak
Everything seemed to be falling in place for Magnus Carlsen at the 7th Sinquefield Cup. With a spectacular resurrection he had won his last two games to draw level with the leader, Ding Liren, and now his specialty, a rapid and blitz tiebreaker, was to decide on the title. A rude awakening followed, as it was Ding who dominated, and who crowned his performance with a brilliant mating attack in the second blitz game.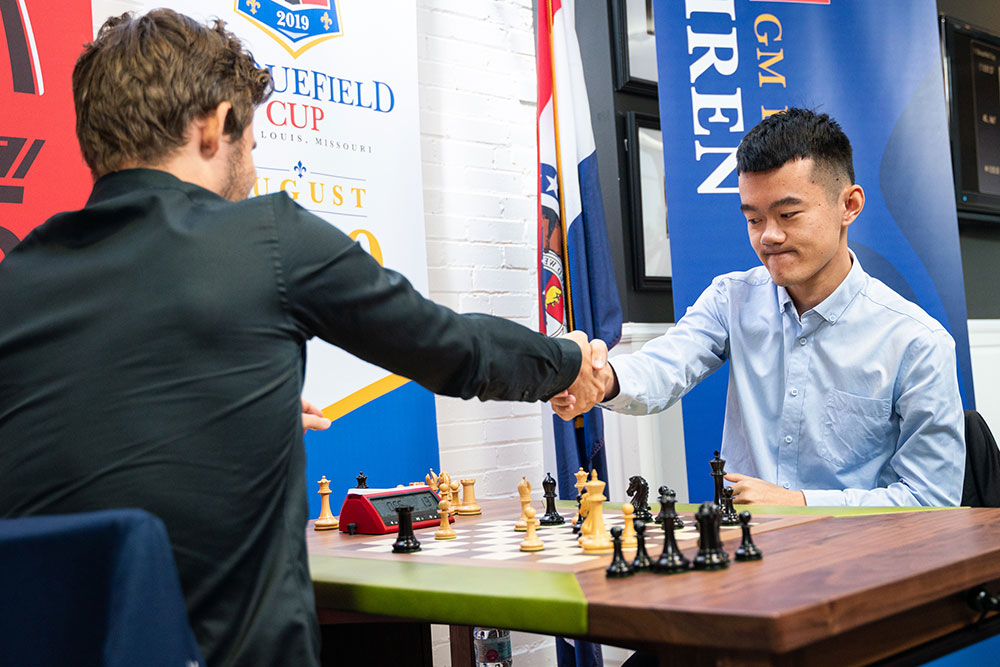 Game over. Ding Liren has rounded off his attack with the beautiful knight move 40…♘e7 and Magnus Carlsen concedes defeat.
Ding Liren is moving fast. Very fast. With determined strides he shoots through the long corridors of the stately Chase Park Plaza, the hotel where most of the participants of the Sinquefield Cup are lodged, walking at a brisk and relentless pace, as if he is late for an important meeting. Without slowing down he says that he likes to walk fast. With a twinkling smile: 'It saves time'.
With the same determination and speed he would arrive to play his games at the Saint Louis Chess Club during the past weeks. As soon as the players came within sight of the staff waiting outside, an official message would be read out to alert everyone inside: 'Player approaching!' In most cases, there would be some time between the announcement and the actual arrival of the players and their seconds. Ding would be there before you knew it, as in a fast-forward shot. Totally focused, barely noticing the photographers and fans, he would disappear into the Club and, having passed the security check, go straight to the playing room on the first floor.
As we are racing to Ding's mini-suite at the Chase, his companion in St. Louis, He Yingdan, has trouble keeping up. But she never loses her smile. He Yingdan is the team captain of Ding's chess team from Zhejiang, and she wants him to know that she's there for him. During the tournament she cooked Chinese food and took care of his phone and iPad when he was in the area where they were forbidden. When we reach his room, she smiles again and briefly disappears to her own room, only to return 10 minutes later with freshly brewed Chinese tea and a small tray filled with sweets and nuts.
Tiebreak at 10 am
It's been a long day for Ding Liren, but he hasn't forgotten his promise to sit down for a chat. And he is happy to talk, perhaps because it's one way not to fall asleep. In fact, he is so exhausted that when I leave after our meeting, he doesn't accompany me to the door, but makes a vague gesture in the direction of the door and staggers off to his bedroom to collapse for an hour before the prize-giving. There, in a short endearing speech, he will thank everyone and tell the audience that saying a few words makes him more nervous than playing chess.
The day started early, as the tiebreak was scheduled for 10 am(!) and was immediately followed by the traditional Ultimate Moves match, in which Rex Sinquefield takes on his son Randy, both supported by teams of grandmasters who are expected to come up with moves and funny insults for anyone around.
Ding had good reason to fear the outcome of the tiebreak. Magnus Carlsen had won all 10(!) tiebreakers he had been involved in in the last 12 years, and hadn't he destroyed Ding Liren in the Rapid & Blitz match they played in St. Louis in 2017? By way of compensation, Ding might have drawn some hope from the Rapid & Blitz tournament on the eve of the Sinquefield Cup, where Carlsen had played way below his usual level and he himself had tied for second.
As it turned out, this tiebreak was further evidence of Carlsen's struggle in St. Louis and Ding's confident rise in the hierarchy, where he is now vying for second place with Fabiano Caruana. The rapid games were two draws in which the Chinese number one never was in any trouble, and in the first blitz game, Carlsen was soon on the defence. The wins that Ding missed were not easy to find in a fast game, but he prevailed anyway when the World Champion lost on time. After this win, a draw as Black would have sufficed, but things got even better. Before we listen to Ding's further thoughts, let's look at the devastating attack he whipped up in this decisive blitz game, with his own notes.
A little bit of luck
Before he comments on his first place in the Sinquefield Cup, Ding Liren repeats his appreciation of Carlsen's resignation. Not only did the Norwegian express his feelings about the beauty of the attack with a sporting smile, he also congratulated his opponent twice. First for winning the game and then, as he stood up, once more for winning the tournament.
Says Ding: 'This is my first win in this kind of super-tournament. My biggest win so far was the Moscow Grand Prix (in 2017). All the best chess players come here. To win such a tournament, you not only need a good performance, but also a little bit of luck. In my game against Vishy (Anand) I was totally busted out of the opening. At one point, I was close to resigning, but as he didn't see the winning tactics, I could stay in the game. You need such luck.'
And he avows that he felt 'stressed out' in his last-round game against Shakhriyar Mamedyarov, when he was White and was leading the field by half a point. 'My plan was to play some risk-free position and I was happy to make a draw, even if that meant that somebody might catch me (besides Carlsen, there were three(!) more players who could do so: Anand, Karjakin and Nepomniachtchi – DJtG). Then at least I would have a very good result, and I also wanted to secure the spot in the Grand Chess Tour final in London in December.'
Once he had made that draw, and Carlsen had indeed caught up with him, he felt much better. 'Of course I realized that he was the favourite in the tiebreak, so I didn't feel too much pressure. The last time I was in this situation was at the World Cup in Tbilisi (in 2017), when I played Levon (Aronian) in the tiebreak. There I was also very relaxed, because I knew I had done a good job before, and all I needed to do was to enjoy the games. My coach Li Wenliang told me to show my best and to produce some good games for the spectators.'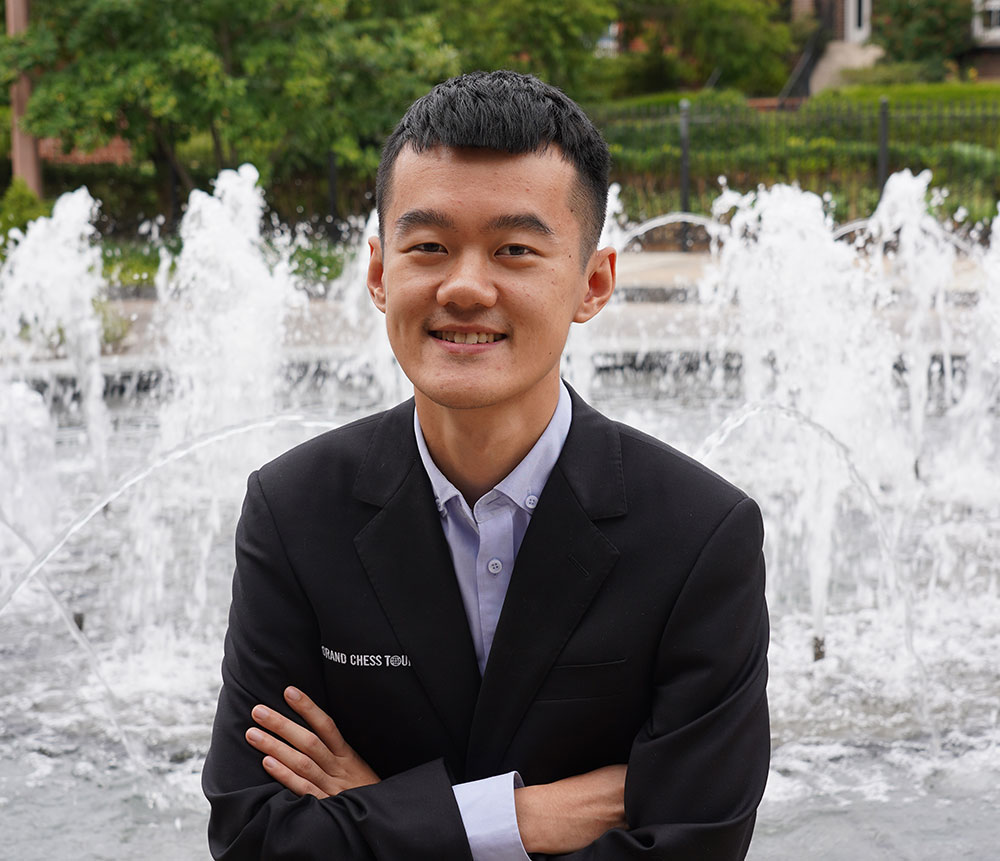 A happy Ding Liren after his victory in the 2019 Sinquefield Cup.
Chess in the morning
This time he was also in touch, via Skype, with Li Wenliang, who not only tends to discuss chess-technical matters with him, but also provides him with psychological advice.
'Before the playoff he told me, do not consider anything else apart from chess. Don't be stressed out. Which of course was quite hard (laughs). Actually, since the game was played in the morning, I think that favoured me a little bit. In China, the final round sometimes starts in the morning, and I always had good results then. Magnus is not so used to playing in the morning. That was to my advantage.
'The moment I played 40...♘e7 was great. The more I looked at the position, the more I liked it. Actually, before he resigned, I realized I was winning the match and this was the happiest moment.'
Low expectations
As he already won his first Chinese championship at the age of 16 a decade ago, Ding's recent successes have not exactly appeared out of the blue. Still, his progress in the past two years has been impressive. What is his own explanation?
'Maybe because I didn't play too much online. I thought that some players play too much bullet and blitz, which may influence your play in classical games. They cannot stop playing quickly, and sometimes make blunders. Like Nepomniachtchi here or Vachier. Only when I am in really bad shape, then I will practise some blitz or solve some puzzles...'
Although he was welcomed as a huge talent many years ago, Ding Liren has always been remarkably modest, often expressing doubts about his full potential.
'Yes, that's true. Maybe I am not ready to win. I don't feel very experienced and I always have low expectations for myself. Because I don't want to be down if I set a very high goal for myself and I don't achieve it. I want to keep a good mood. And the good results will come.'
I remind him of a story he told some years ago, when he opined that Wei Yi was China's biggest talent, and that he was just waiting for the moment that the youngster would dispose of him and the rest. He vividly described his feelings while sitting opposite Wei Yi, who probably saw him as just some small molehill to overcome. He starts laughing and confirms that was what he indeed thought. 'Actually, during that time he was improving very fast. Recently he has not been performing well and the speed of his growth is not so fast. He is in university, not fulltime, but just like me some years ago. We have to spend some time on a subject. My subject was Chinese law. Civil law, criminal law, commercial law... Yes, I finished it, but nothing more than that. I had to do a couple of exams more than once.'
Ding Liren may not be eager to set himself high aims, but if you qualify for the Candidates, close in on the World Champion in the world rankings and beat him in a playoff, the next goals cannot be a great mystery.
(He smiles and looks away, as if in embarrassment) If I set a next goal (hesitates), then it's...(thinks). Sometimes the stress in the world championship cycle is just too high. And that I cannot stand. I know that the Candidates tournament is hard for every player. I remember when Levon (Aronian) was at his best, playing very well in any tournament, except for the Candidates. Maybe his country had too much hope for him. I just want to be relaxed, like today. I know that I can play better chess when I feel relaxed. That's why I don't want to set very high goals.'