As chess fans, we are lucky that so many chess players like to write, and that even World Champions or Challengers, such as Kasparov and Timman, have put in the effort to create wonderful chess books.

Life at Play, published today by New in Chess, is destined to become one of those classic chess books written by one of the legends of the game. Life at Play is the memoir of American-Czech Grandmaster Lubomir Kavalek (1943-2021) who was born in Czechoslovakia, fled his home country in 1968, and eventually settled in the United States. He won numerous strong tournaments, was a three-time US Chess Champion, and played brilliant chess.

An example from the book is his famous queen sacrifice against Lajos Portisch, played in Wijk aan Zee in 1975, with notes by Kavalek.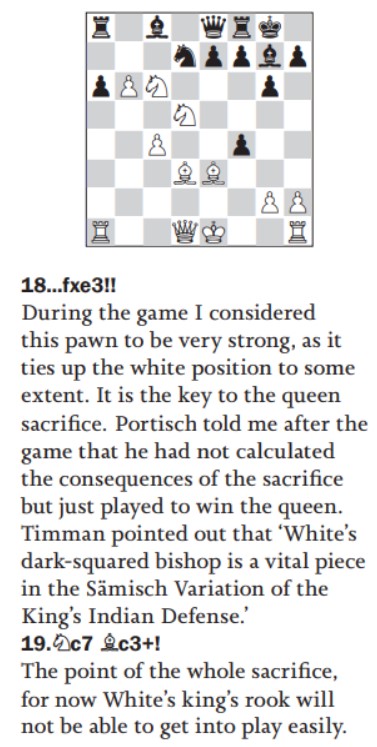 Kavalek was not only a strong Grandmaster but a prolific writer as well, and he reached millions of chess fans with his much-acclaimed columns in the Washington Post and the Huffington Post.

His memoir was years in the making and almost ready when he died in early 2021. His wife Irena, and his friends have completed the manuscript and recovered his game collection from his Chessbase files. The memoir is around 200 pages, and the chess games add another 150 pages - in hardcover, including 16 pages of photographs.
Kavalek's memoir makes for compelling reading and evokes his fascinating journey in life and the chess world. He tells stories about all the chess greats of the last century. He played against Bobby Fischer and assisted Fischer during the legendary Match of the Century in 1972. One anecdote from the book, about the Interzonal in Sousse, Tunisia, in 1967, a tournament Fischer would not finish: 'We kept running into Bobby in the hotel frequently because his room was between Hort's and mine. The walls were thin, and Bobby was an evening person who liked to listen to music late into the night. Hort was bothered and wanted revenge. He would turn up the radio's Arabic music station full blast and go downstairs to breakfast. It turned out that Bobby was a sound sleeper and never noticed.'

Please have a look at this beautiful chess memoir. You will find 26 sample pages on the product page on our webshop to get a good feel for the book.