New In Chess magazine #7 has been published and is available for everybody to enjoy. The Elephant in the Room is of course addressed in our extensive reports on the Julius Baer Generation Cup and the Sinquefield Cup. Genna Sosonko is back and looks at a 'stunning' move from the World Championship of 1969. Besides that, we have our usual contribtors James Altucher, Judit Polgar, Matthew Sadler and Jan Timman. And much more!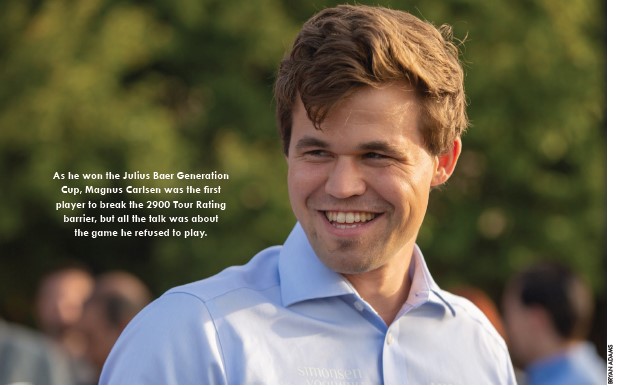 The silent move heard round the world
Playing sparkling, bone-crushing chess, Magnus Carlsen won the Julius Baer Generation Cup, the seventh leg of the Meltwater Champions Tour, with a record score. Yet, it was a game that he didn't play, a one and a half move 'loss' to Hans Niemann, that made headlines. Following his withdrawal from the Sinquefield Cup, the champion staged another silent protest that was heard around the world. JONATHAN TISDALL saw the drama develop and gives his analysis. There's riveting chess too...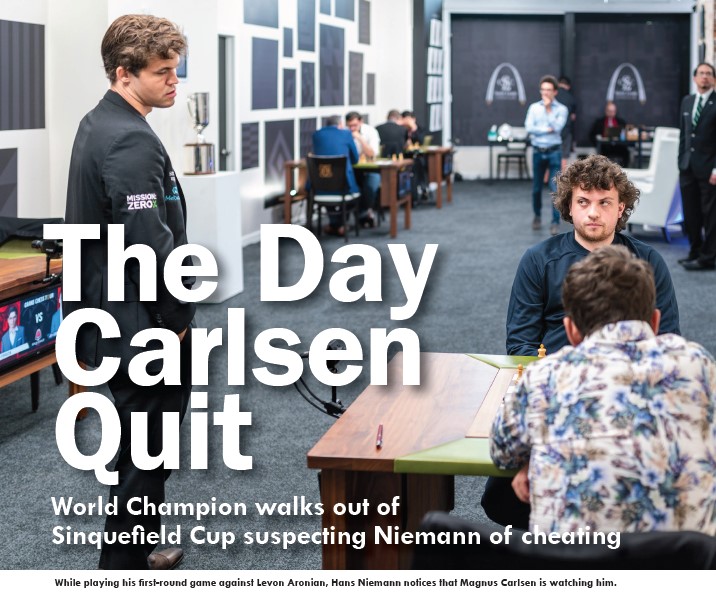 Sinquefield Cup
In America's chess capital St. Louis, 19-year-old Alireza Firouzja crowned himself winner of the 2022 Sinquefield Cup and the 2022 Grand Chess Tour, and took home over a quarter of a million dollars. His success didn't make headlines. The press worldwide jumped on another 19-year-old talented kid, Hans Niemann, speculating whether or not the American had cheated when his win against Magnus Carlsen prompted the Norwegian to withdraw from the event. ALEJANDRO RAMIREZ watched the drama unfold and shares his impressions from St. Louis.
Other stories to enjoy and lessons to be learned:
Writing about cheating, talent and wisdom, JAMES ALTUCHER comes to the conclusion that chess is a much more beautiful game than he ever realized.
Test your decision-making skills with THOMAS 'Toolbox' WILLEMZE.
Johannes Zukertort's sweeping win in London 1883 was all the more amazing given the fact that he lost his last three encounters. Why? WILLY HENDRIKS comes up with a remarkable explanation.
MAX NOTKIN maximizes your tactics.
GENNA SOSONKO looks at a 'stunning' move from the World Championship of 1969.
Few greats have made as big a contribution to our knowledge of the endgame as Yuri Averbakh. JUDIT POLGAR has been a fan of his work from childhood,
As the UK mourned the passing away of their queen and the chess world found itself in turmoil by an act of their king, MATTHEW SADLER looked for diversion in an assortment of newly arrived chess books.
The most successful young Indian this year has been 19-year-old Arjun Erigaisi. JAN TIMMAN looks at recent games of a phenomenal player, who is modest in demeanour, but merciless on the chess board.
and much more
Find out why club players in 116 countries never want to miss an issue of New In Chess and subscribe or renew today.

Digital edition
There is also a digital edition available. We have a very special offer for all of you who are not yet familiar with our magazine.

For only €1 you will get immediate access to issue 2022#7.

The digital edition is available for iPhone, iPad, Android phones and tablets, and PC. In the digital edition, you can replay the moves on the built-in board. If you need help with digital access, please email us at nic@newinchess.com