Studying the endgame and improving your knowledge of the 'third phase' in a chess game will bring you many extra half or even full points.
As Herman Grooten says: 'In endgames, the difference between a half and a full point sometimes depends on an apparently minuscule detail. And isn't that what we are always doing – playing for a half or a full point?'
After the success of his award-winning classics, Chess Strategy for Club Players and Attacking Chess for Club Players Grooten has now written an equally instructive 480-pages endgame manual.
He explains a lot of basics, in an entertaining style. He shows for example a number of fortresses: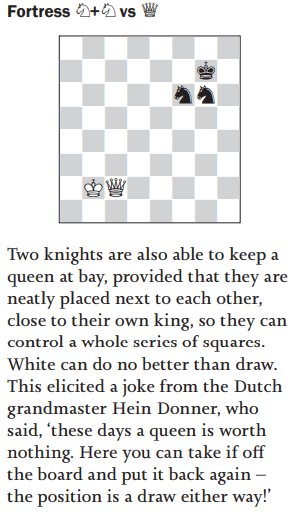 But Grooten most importantly teaches you how to understand the themes of an endgame and find the right moves based on your understanding. Building on his experience as a player and coach, Grooten takes an original approach to convey his message: the endgames are divided according to a theme, not chess material. This is a novel, but very effective way to learn the ins and outs since many themes can occur with different material balances.
The material is richly illustrated with many examples from practical play, as well as endgame studies, which present the motifs in their purest and most attractive form. The result is a lively and highly instructive guide to the endgame.
You will find 31 sample pages on the product page on our webshop to get a good feel for the book.
Interested? Buy Chess Endgames for Club Players in our webshop.