For the new issue of New In Chess that came out today (2023/5) I interviewed Hikaru Nakamura. We talked for an hour after he won the 11th edition of Norway Chess in Stavanger. His victory was an amazing achievement. In the final round Nakamura had to defeat the early leader Fabiano Caruana to claim first prize and that's what he did in an unforgettable game (you will find the game with the winner's comments in this same issue).

And Caruana was not the only top player in a stellar field who could not keep up with Nakamura's pace. Magnus Carlsen couldn't either, nor could the young guns Gukesh and Alireza Firouzja, or aces like Anish Giri and Wesley So.
They all bowed to a grandmaster who no longer sees himself as a professional chess player and keeps stressing that his full focus these days is on streaming and creating content, a highly successful endeavour that has resulted in more than 6 million followers.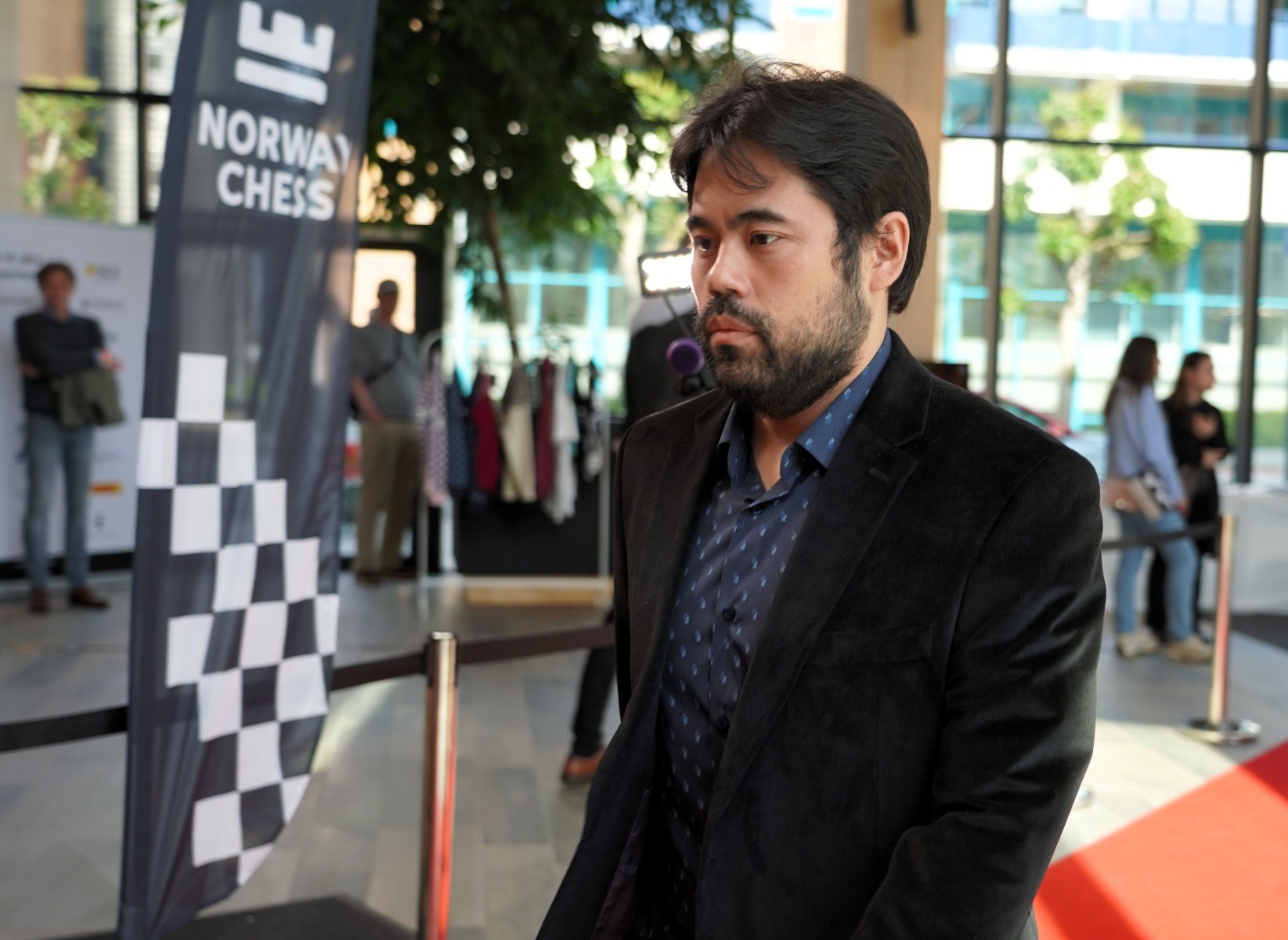 Hikaru Nakamura arrives for the crucial last-round game against Fabiano Caruana in the recent Norway Chess tournament.
Photo: Dirk Jan ten Geuzendam

Interviewing Nakamura is inspiring. You have a dynamic conversation and afterwards you feel energized. He speaks freely, formulates quickly, is never afraid to give his opinion and has clear views. For instance, if you want to know why he no longer sees himself as a professional chess player, he will come up with a clear-cut answer: 'I have a very clearly defined view of what being a professional chess player means. For me, that means a person studying chess pretty much every day, and playing all the top-level tournaments. For example, someone like Wesley So. He plays all the Grand Chess Tour events, he is clearly studying all the time. To my mind, that is like a defi­nition of what a pro player is, and that is not what I do.'
Likewise you will not get false modesty when you discuss his rivalry with Magnus Carlsen: 'I don't really feel as if I am the underdog against Magnus pretty much any time we play now – whether it's because of my results against him or generally how he has played.'
And who can argue with that if you've just risen to second place in the world rankings?

'Magnus' was obviously one of the subjects we had to touch on in the interview and there were many more, but the general theme is Nakamura's take on modern chess and how he sees his role to attract as many chess fans as possible. And how to keep them happy.
Hikaru Nakamura's opinion counts. He is one of the most influential persons in the chess community and the chess industry and his views are based on wide experience. He can look back on a long career in which he has always been a trailblazer and an influencer long before people started calling themselves influencers.

In fact, while I was writing the interview my thoughts at some point wandered back to the first interview I had with a very young Hikaru after he won the US Championship for the first time. It was at the end of 2004, in San Diego, and he was only 16 years old, the second youngest champion after Bobby Fischer. Thinking back I realized that already then he was leading the way in new trends and paving the path for a new quicker type of chess that is now being played in millions of games all around the globe.
Mind you, in 2004 any coach would warn against playing too much blitz, and certainly none of them would advise you to include blitz in your training routines as is fairly common now.

But Hikaru was crazy about blitz and bullet and his fans loved him for it. Let me give you a few excerpts from that first interview from 2004 to remind you of the young revolutionary he was. And note in the following passage that I thought it expedient to explain what 'bullet' was!
'After he's drawn his game in the last round but one, Hikaru Nakamura saunters into the press room. (…) He wants to unwind, or rather he's got some energy to spare. With a twinkle in his eyes he spots a deserted laptop on a table in the middle of the room. It's Matthew Hoekstra's and Nakamura asks the owner if he can use it to go on ICC. Sure, if he will settle for a slight handicap, as there's no mouse. That's a bit awkward, but with a broad grin Nakamura decides that he will try to play 'bullet' (a one-minute game, for the uninitiated) using the keyboard. What happens next is followed by the bystanders with awe and amusement. With baffling dexterity and uncanny agility his fingers flit over the keys, typing in moves at incredible speed. This is the long-distance runner training with a backpack. He's enjoying himself, even if soon he has to acknowledge that with this ultra-quick time-control the absence of a mouse is too big a disadvantage, even for him.
Nakamura is hooked on speed chess, he loves it. And he's extremely good at it. On ICC he holds the records for the all-time highest ratings in both bullet and blitz. Using one of his old accounts he managed to reach a 3060 rating at bullet, and under his user name Smallville he has set the blitz record at 3674.'

Nakamura won his first US Championship at the end of 2004 by beating Alexander Stripunsky in a rapid tiebreak match. To be honest, my memories of those two rapid games in the ballroom of the La Jolla Hilton are extremely vague, but I do remember the blitz battles between Nakamura and Gata Kamsky later in the evening in the lobby of the hotel. The young champion won most of the games and the spectators couldn't get enough of the spectacle.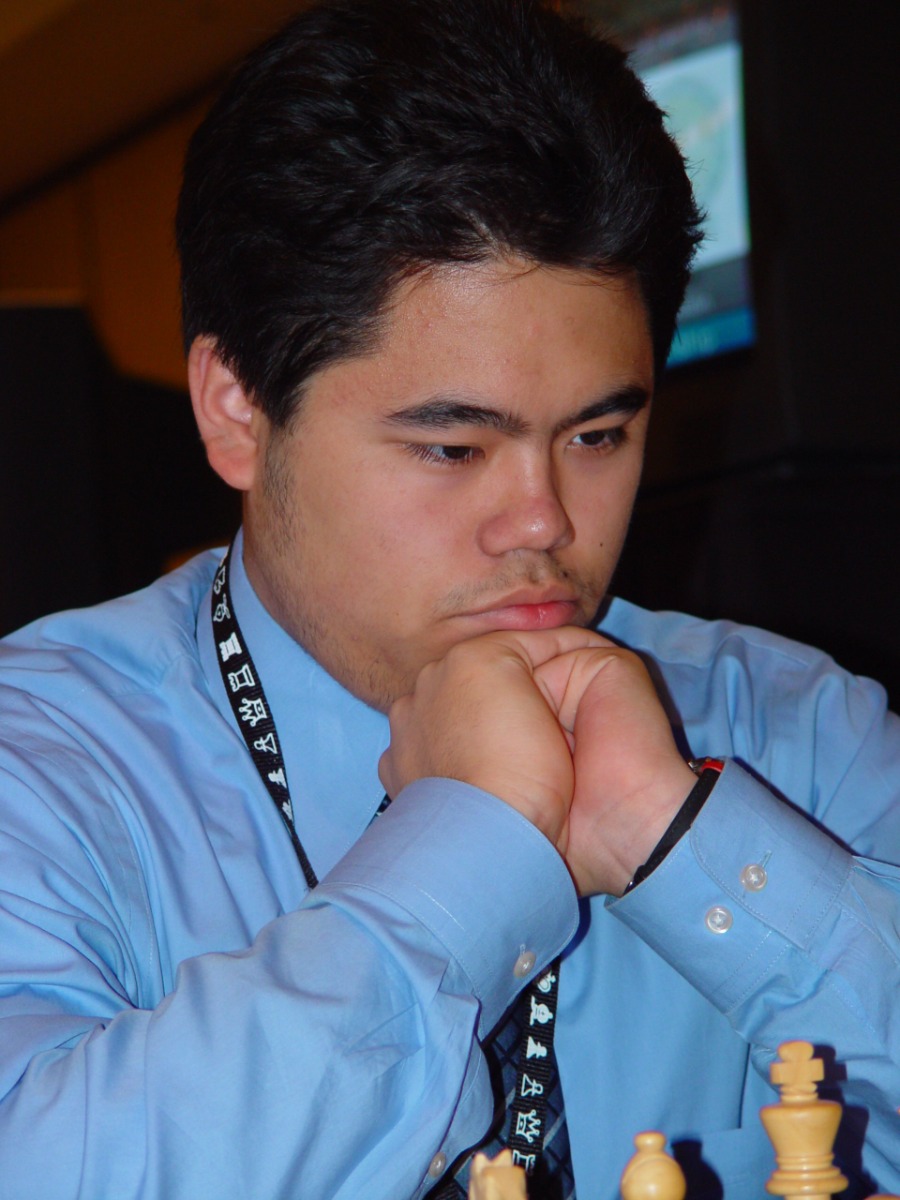 San Diego 2004. At sixteen Hikaru Nakamura became the second youngest US Champ since Bobby Fischer.
Photo: Dirk Jan ten Geuzendam

Another part of that first interview that I've always remembered was about his opinion of great players from the past. For two reasons. For what he said about Fischer and Smyslov, and because it was another great example of his individual thinking and his wish to go his own way. Have a listen.

'You barely read any chess books.
'Yeah, I actually haven't read a chess book in a long time. I haven't really read much about the history. There are a lot of these top people who read about the previous World Champions, and those before that really got good. I haven't done that. I have studied some of Fischer's games and of course Kasparov's games, which are probably the only two players I have studied.'
We show you a nice Smyslov game and you would not have a clue.....
'(Laughs) Probably not.'
Do you see this as a gap in your education?
'I don't think it really matters. Some of the World Champions' contributions were good, some of them, such as Capablanca and certainly other ones, but some of them I don't think have had that much of an impact on the game.....'
Such as.....
'Well, like Smyslov for example.'
His endgames...
'His endgames are good, but basically... I have seen some of his games, not as many as say Fischer's or Kasparov's... they seem kind of boring.'
Do you believe that the level of chess has risen dramatically since Fischer?
'The level of chess definitely has gone up. I would say Fischer... You could arguably say he is probably the greatest player ever because there weren't computers when he played and he got to such a high level, whereas other players, like Kasparov... Well, Karpov also got pretty good, I don't think he really studied with computers either. Let's say Kasparov, he's basically studied with computers, that's actually why he is so great, because his opening preparation with computers is so good.'
(…)
'I still keep improving and I am not training with anyone right now. Maybe when there is a certain point where I will stall, where my rating stops going up, I might consider working with someone. Why should I really mess around with everything if it works.'
And you think it is possible, as Fischer did so too.
'Well, actually, (smiles) yes.'
It's all opening related...
'At the highest levels, yes.'
So that means you think your endgames are OK...
'My endgames are fine. At least, I think they are...'
Nothing Smyslov is going to teach you there...
(Laughs and thinks about what he should say)
That is what you are thinking, but you think it is presumptuous to say so...
'Yeah, it is kind of presumptuous. But yes, what I basically believe is that if you can get out of these openings with equal or slightly better positions, you have very good chances against these top players. Because in the middle game you might be able to trick them. I am not saying top players like Kasparov or Anand, because they are very good, there is no doubt about it, but I think. ... the only thing I probably really have to do is play in Europe more often, play against these top players who are over 2700.'

That was almost 19 years ago and hearing a young man's views from today's perspective says a lot about the way his vision has grown naturally.
What this has led to you can read in the interview that you will find in the new issue of New In Chess. At 35, Hikaru Nakamura remains an incredible player and a personality whose thoughts about the current state of chess and his expectations for the future are well worth reading. Don't miss it.