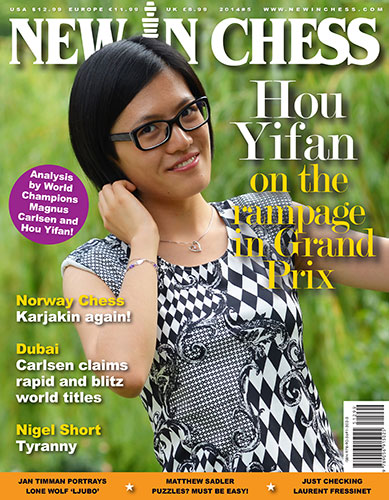 Buy Single Issues of New In Chess magazine
Read by club players in 116 countries
New In Chess is the premier chess magazine in the world, read by club players in 116 countries. The magazine has regular contributions from all the world's best players. Magnus Carlsen, Wesley So, Fabiano Caruana, Anish Giri, Hikaru Nakamura, Vladimir Kramnik, Levon Aronian, Vishy Anand, Maxime Vachier-Lagrave, Sergey Karjakin, Veselin Topalov, Alexander Grischuk, Judit Polgar and Hou Yifan. You name them, we have them. Perhaps that's why New In Chess is also their favourite chess magazine!
Subscribe to New In Chess magazine
Preview a complete issue
We have published a complete issue, 2016#8, for you te preview the magazine as a PDF.
Video of the digital edition
Please have a look at our animation of the digital edition of New In Chess magazine.
| | |
| --- | --- |
| 2018 | Publication date |
| Issue 2018#1: | January 24 |
| Issue 2018#2: | March 7 |
| Issue 2018#3: | April 18 |
| Issue 2018#4: | May 30 |
| Issue 2018#5: | July 18 |
| Issue 2018#6: | September 5 |
| Issue 2018#7: | October 24 |
| Issue 2018#8: | December 12 |
What people say about New In Chess
"The best chess magazine of all time."
IM Jeremy Silman, author of 'How to Reassess Your Chess'
"A fantastic magazine, unparalleled and beyond comparison."
Carsten Hansen at ChessCafe
"New In Chess is tremendous. All articles are well-written and interesting, the contents are wide ranging and profound."
Juha Kankkunen, Vantaa, Finland
"I just received my first copy of New In Chess, and after spending the last 24 hours devouring it, I thought I'd give you my review: Absolutely wonderful."
Alan D. Brunelle, Merrimack, NH, USA
"Excellent work. New in Chess is much more than I had expected when I subscribed some time ago."
Agustin Lanne, Buenos Aires, Argentina
''I have read your magazine for ten years now and I have anticipated and enjoyed every issue''.
Choon Hwa, Singapore
"New In Chess Magazine is the world's best chess publication".
IM Mark Dvoretsky, speaking at the Miami International Chess Club
"You are everything your audience wants to read. That is why you are so successful".
Garry Kasparov
"Your magazine is the only one I actually read''
Mark Crowther, editor of The Week In Chess, UK
"Could a day end more beautifully? Coming home after work and finding the latest issue of New In Chess in the mail."
Yves Surmont, Roeselaere, Belgium
Subscribe to New In Chess magazine